How do I love thee,
Stashbusting September
?
Let me count the ways...
If you, or someone you love, could benefit from participating in
Stashbusting September
, please don't hesitate to sign up. There are thousands of stashes out there that need to be busted. If you could bust just one stash, the world would be a better place.
Please help. Click on this link...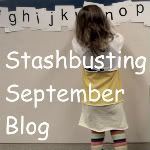 ... and help save a stash today.
It's not too late.
Spread the word and bust a stash - you can do it!
(Note: the pictures above are in no way supposed to represent the entirety of this particular stash - only a representative sample.)