I have been wearing a ton of blues and greys this summer. Seriously, half my summer wardrobe is either grey, dusty blue, white or navy (or some combination of those). But I have found myself short of matching jewelry.
No longer.
I made these... a bauble and button set - bracelet and earrings. I just used a length of chain for the base, a pile of jump rings and a bunch of buttons and findings. And a clasp and ear-wires, of course.
Then I indulged in what might arguably be my favorite part of blogging - setting up some ridiculous scene of inanimate objects and taking four thousand photos of them. All on the macro setting. Because, seriously. What jewelry of yours just spends time hanging out with a pair of wine glasses? Yeah, that's what I thought.
For real. My entire wardrobe right now is in these colors. It's like I just showed you the inside of my closet.
Now I am going to go put them on and maybe I'll take them off in the fall.
Hey! There's still time to enter my QUILT GIVEAWAY (oddly enough, in a remarkably familiar color scheme)... just click on the button below!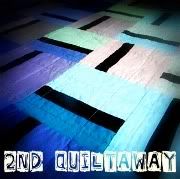 Linking up to
Met Monday
and all the awesome parties in my Link Parties tab - check 'em out!