I've been working on a bigger project for the last few days. I'll share more when it's finished, but here's a sneak peak.
In the meantime, I figured I'd finally post a quick tutorial for my word wall art from my
craft room redesign
.
I made this "word" art for my craft room. It was super easy and I used stuff I already had on hand. I knew I wanted an inspirational word on the wall, but I did not want one separate frame for each letter because then I would always be starring at them and try to realign all the frames so they wouldn't be crooked... kind of obsessive like that. This is my way of avoiding that problem:
5 cheap 5x7 frames (or one for each letter of your word)
2 36" craft dowels (1" square - you can find them in almost any craft store)
hot glue gun
1 self-leveling hanger
spray paint
a printer
card stock or paper suitable for framing
I know there is a package of nails in the pick... I thought originally that was how I was going to put this together, but it was not going to work. Besides, a hot glue gun can solve just about any problem... I also originally wanted the word "create," but I only had 5 frames and this was all about not spending more money. "Dream" was just as appropriate. :)
First, remove the glass and the backings from all of your frames, then line up your frames evenly between your two dowels. Then mark out the spacing of the frames onto your dowels with a pencil.
Now start hot gluing your frames to the wood dowels along the bottom edge first. Once you've glued all the frames to the bottom dowel, go back and glue the top dowel down along the top edge of your frames.
Now flip your frames over to the back side and hammer a self-leveling hanger to the center back of your top dowel. (Sorry for the fuzzy pic.)
Spray paint the whole frame and your dowels. Be sure to get around all the edges of the frames.
On your computer, pick out your favorite font and play around with the sizing until it will take up most of the space of your 5"x7" frame. I also added a heavy, black border to the outside of each letter so that from a distance it looks a little like each letter is matted. You can print the letters in color or black and white... whatever works for your space. I originally thought that black and white would be perfect, but it just didn't pop so I played around until I was happy with it.
Then just trim each letter to fit the frame, replace the glass, frame your letters and VOILA!
And a big shout out to all of my faithful followers... Craftopotamus hit 50 followers this morning! Hooray for us! To celebrate, I made a couple buttons (you know, so you can match one to your blog if you like) ... feel free to take one... or ten! :) Thank you followers! I (heart) you!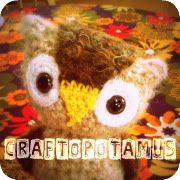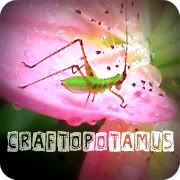 And I have big plans for when we reach 100...