Most of you know that I recently redesigned my craft room into a more inspiring space. What you probably don't know is that I was inspired to do so after stumbling across the latest copy of a magazine called "Where Women Create." The entire magazine is dedicated to nothing but the creative spaces of women. Page after page of the most beautiful art, sewing, scrapbooking, crafting spaces you have ever seen and each is totally unique. And I just found out that one of the women that was featured in that issue also has a wonderful blog called
My Dessert Cottage
and she hosts an annual blog party where women can link up images of their spaces.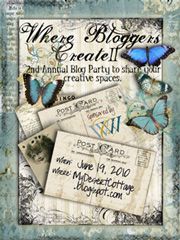 It was too late for me to participate, but it's not too late for you to see some incredible design rooms. Just click on the button above and all of the links are listed in the right hand column. Tons of inspiration...
And I also wanted to share one of my most recent quilts. I finished it right before I started this blog. It is my first bargello quilt.
Here's a picture of it before it was quilted. This was also the first quilt I made in which not all of the fabrics were new. There are a couple pairs of my old jeans in here as well as one of my husbands old work shirts and several non-cotton fabrics that my sister-in-law brought me from when she lived in China.
In these next couple photos you can see some of my quilting along the border. There is a similar daisy chain pattern that I quilted a couple times into the middle of the quilt, but it was too difficult to pick up with the camera. You can also see the logos from my husband's work shirts...