A friend of mine just celebrated a birthday. I was able to make her a quick journal the other night. The pictures aren't the greatest because I forgot to take them until after I'd given it to her. I actually took all of these with my cell phone in a parking lot. Here's to improvising. :)
Just like when I made my
Field Journal
, I started with one of these (for more explicit directions you can check out the earlier post)...
I covered it in fabric, added some graphics, courtesy
The Graphics Fairy
, and a few odds and ends to get this...
Here's the back...
And the inside cover... the interior fabric is a brocade.
I also alternately stamped some of the actual pages as well...
I also wanted to let everyone know that I'll be participating in an awesome upcoming event...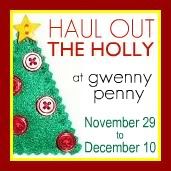 It will consist of 12 days of holiday tutorials from 12 amazingly crafty bloggers. I'll be working on my tutorial behind the scenes till then. You can get more info by clicking on the button above. Can't wait and I hope you get a chance to check it out!!

I'll be linking this up to many of the awesome parties included on my link party page, including Met Monday! Check them out!